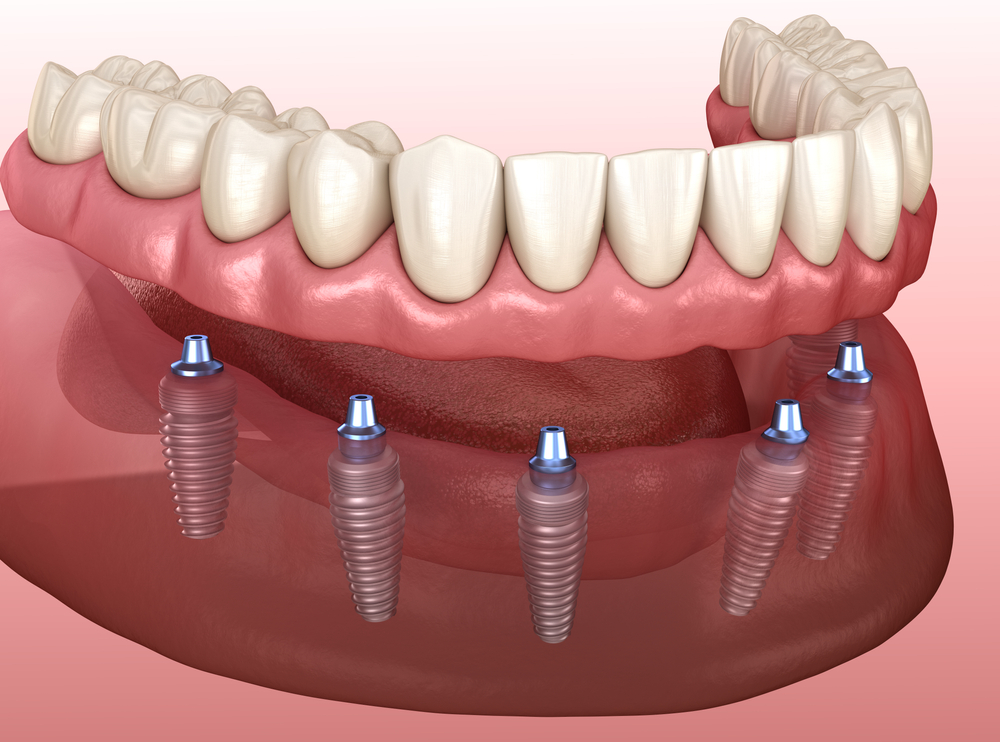 Our team at Amedeo and Colonna, LTD. is ready to help you achieve your best smile yet, with effective and restorative dental implants! Our expert team uses advanced implant dentistry to provide long-lasting and beautiful solutions to patients in the Chicago who have lost their natural teeth. Our goal is to help restore your teeth, smile and confidence so that you can put forth the best version of yourself–while providing you with natural functioning teeth! All-on-6 implants may be the best decision for your oral health.
How Do All-On-6 Implants Work?
Traditional dental implants are made of metal posts that attach to artificial teeth that then attach to your jaw bone, often used to replace a missing tooth or a whole row of missing teeth.
All-on-6 implants use a series of six carefully placed titanium posts that are implanted into your jaw bone. These are very similar to the common all-on-4 implants, except that they use an additional two implants to further secure the denture to the jaw bone.
Prior to the dental implant procedure, Bernard Colonna DDS, Kevin Maloney DMD will thoroughly examine your jaw bone, structure and bite balance to determine whether all-on-6 implants are the best option for your mouth. Once this is determined, Bernard Colonna DDS, Kevin Maloney DMD will plan out a comprehensive treatment plan for your unique situation, which may take a few visits.
The Benefits of All-On-6 Implants
Dental implants are a wonderful and long-lasting option for those looking to permanently restore the function and aesthetic look of their teeth. In addition to the natural look and feel of dental implants, they can also help you promote better jaw bone health and prevent the future loss of teeth.
Implants also serve as artificial teeth roots which help to maintain the normal bone replacement cycle like healthy jaws experience. While improving your overall oral health and confidence, they can also help to prevent the "sunken-in" look that is often caused by a thinning jaw bone.
Learn More About All-On-6 Implants
Bernard Colonna DDS, Kevin Maloney DMD and our entire team are committed to providing you with the best treatment for your missing or lost teeth. We take the time to fully evaluate your mouth and teeth to ensure that we are providing the best solution for your oral health. All-on-6 dental implants are an amazing, sturdy solution to a row of missing teeth–giving you the confidence and function that you deserve.
We invite you to reach out to our office at 847-696-2019 to find out more about your dental implant options. We look forward to speaking with you soon!