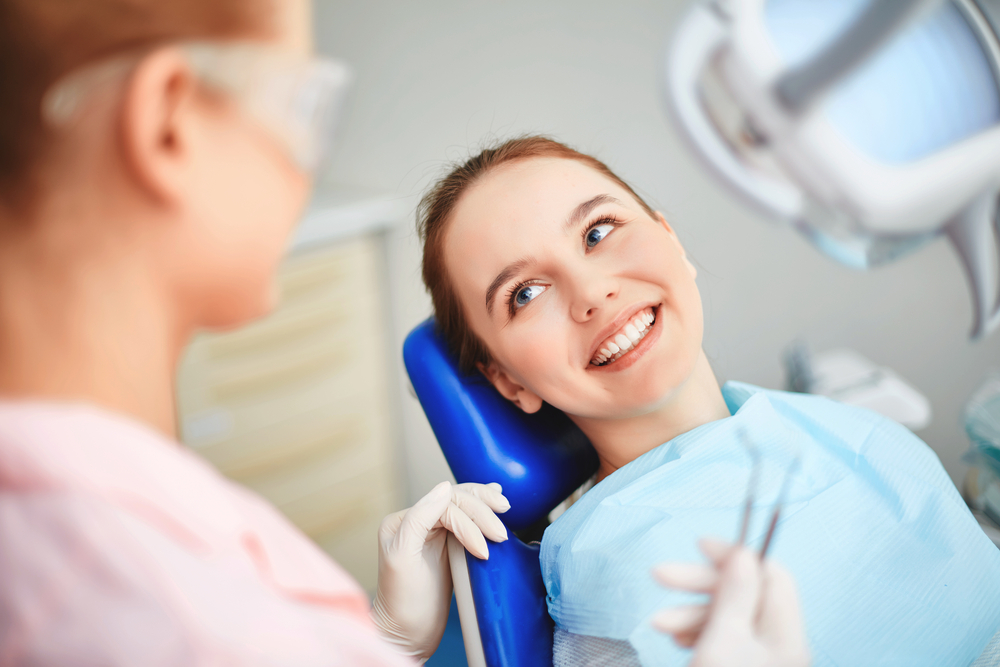 As oral health professionals, dentists are some of the first people able to catch oral cancer in its early stages during a general hygiene exam. Mouth and oral cavity cancer screenings are a vital part of preventative dentistry.
At Amedeo and Colonna, LTD., we perform a screening for oral cancer during each standard appointment with our team. This helps us identify any early signs of oral cancer and provide recommendations for the next steps and treatment.
We also provide each patient with education about how to prevent cancer and at-home steps they can take to protect themselves.
What is the Importance of Oral Cancer Screening?
Preventative care is important for all parts of your body, and your mouth is no different. Since cancer can spread to multiple parts of the body if left undetected or untreated, it is crucial to catch any form of cancer as soon as possible and receive treatment from a specialist.
For patients with signs of oral cancer, the survival rate is higher and treatments are simpler if caught early. Removal of precancerous lesions and cancer cells from the mouth will prevent the disease from spreading further in the body and get you back on track to total physical health.
What Happens During an Oral Cancer Screening?
It is important you maintain regular bi-annual checkups with Bernard Colonna DDS, Kevin Maloney DMD and the team for the health of your teeth, gums, soft tissues and–in this case–your whole body.
Following your cleaning with one of our dental hygienists, Bernard Colonna DDS, Kevin Maloney DMD will take a close look at all the parts of your mouth for current signs of cancer or any precancerous warning signs. Different types of technology specifically for oral cancer screening may be used during this process.
Areas of the mouth examined during an oral cancer screening include the following:
Tongue
Lips
Mouth tissue
Teeth
Roof and floor of the mouth
Lymph nodes, if applicable
Ears, if applicable
From here, we will discuss our findings and any necessary next steps if a second opinion from a specialist or treatment is required.
What Does a Dentist Look For During an Oral Cancer Screening?
There are several distinct symptoms that may indicate a patient has oral cancer. This includes symptoms a dentist can see themselves or with technology, and symptoms you experience in everyday life.
We believe oral health is a collaborative process, and oral cancer screenings are no different. As part of the screen, Bernard Colonna DDS, Kevin Maloney DMD will take time to talk with you about any symptoms you may be experiencing outside of the office and determine if this is cause for concern.
Some of the most common symptoms of oral cancer include:
Loose teeth
Sores on the lips or in the mouth that won't heal
Red or white patches
Growths or lumps
Mouth or ear pain
Persistent cough
Difficulty swallowing
If you are experiencing any of the above symptoms, please call our office immediately at 847-696-2019 to schedule an appointment and screening.
What are the Risk Factors of Oral Cancer?
Your mouth is fundamentally connected with the rest of your body and your oral health habits. As such, you must let our office know of any preexisting medical conditions you have or lifestyle choices that negatively impact your oral health. These factors can increase your risk of oral cancer.
Some of the most common risk factors for oral cancer include:
Excessive alcohol consumption
Using tobacco
A family history of mouth or throat cancer
Human papillomavirus (HPV)
Looking for Oral Cancer Screening in Park Ridge and the Surrounding Chicago?
At Amedeo and Colonna, LTD., our expert team specializes in preventative dentistry solutions that preserve the health of your mouth, teeth and gums. Call our office at 847-696-2019 to discuss oral cancer screenings and your options for additional prevention measures.