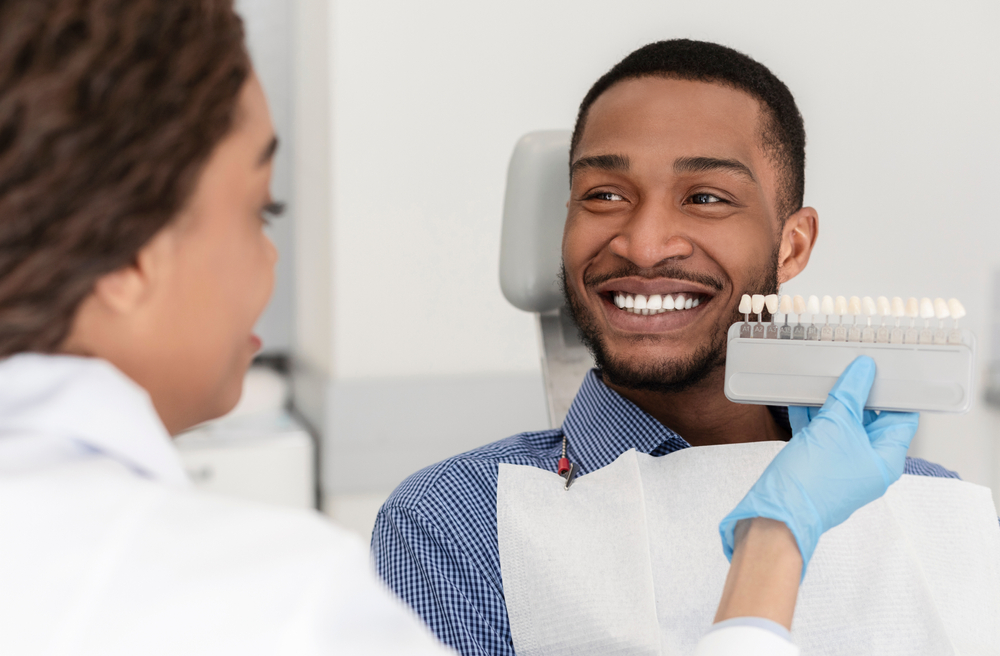 Sometimes, despite your best efforts, dental and oral health problems like decay, tooth loss, infection, injury or damage can still occur. Oftentimes, other medical conditions can contribute to tooth loss and a decline in oral health.
At Amedeo and Colonna, LTD., our team of experts provides a range of restorative dentistry services to get your mouth back to a place of total health and to protect against future issues. We recognize the unique situations of patients in need of restorative treatment and approach each patient with empathy, kindness and our signature professional, gentle touch.
What is Restorative Dentistry?
While preventative dentistry deals with protecting your mouth from future problems and cosmetic dentistry focuses on enhancing the features of your smile, restorative dentistry handles all necessary repair, restoration and maintenance caused by decay, disease and damage.
For example, if a patient experiences an injury or trauma to the face that results in the loss of teeth, a restorative treatment option is dental implants. For patients with deep, untreated cavities resulting in an infection in the soft tissue beneath a tooth, a root canal is a restorative treatment to stop the infection from spreading and protect against future caries.
Some of the restorative needs we see most frequently at Amedeo and Colonna, LTD. include root canals, decay, a need to replace a missing tooth or teeth and gum disease. As Chicago's top choice in dental professionals, we are extensively experienced in treating all of this and more.
What is Considered a Restorative Dentistry Treatment?
A restorative dental treatment is anything focused on addressing an existing issue in oral health, repairing both the symptom and problem and promoting overall healing of the mouth.
Common types of dental restorations include:
Root canals, which is when inflamed and infected pulp is removed from beneath a tooth as a result of a cavity
Dental implants, which are used to replace missing teeth and support future bone growth
Bridges, which fill major gaps between existing healthy teeth
Full and partial dentures, which are removable sets of replacement teeth and are usually less expensive than what dental implants cost
All-on-Four, which replaces a full arch of teeth with a set of implants
Implant restoration, which is when the crown used for a dental implant is updated and replaced if it begins to wear down like a natural tooth
What is the Difference Between Bridges, Implants and Dentures?
Modern dental treatment includes a wide variety of tooth replacement solutions. It may be confusing to determine which solution is best for you.
Before performing any form of treatment, our dental professionals at Amedeo and Colonna, LTD. will work closely with you to help you understand your current dental needs and the best available option: bridges, implants or dentures.
Dental implants require an artifical support post to be surgically attached to your jaw bone. This will serve as the root for your new tooth. A crown, or the artificial replacement we create to serve as your tooth, is then placed over the post. Over time, the post will adapt to your jaw bone and promote growth.
Bridges quite literally are used for bridging the gap between missing teeth. Unlike implants, they do not require an artificial post to support the dental crown. Instead, they are supported by existing natural, healthy teeth.
Like bridges, dentures also do not require posts. However, dentures are best for patients missing a full row or arch of teeth, while bridges are best for patients missing between one to three teeth. Instead of being anchored to your jaw bone, dentures are a removable set of new teeth designed to match your mouth.
Multiple different types of dentures, like full and partial, are available. We will help you determine which is best.
Looking for Restorative Dentistry in Park Ridge and the Surrounding Chicago?
At Amedeo and Colonna, LTD., our expert team specializes in restorative dentistry solutions that repair your smile and mouth back to total oral health and well-being. Call our office  at 847-696-2019 to discuss all of the services we offer to restore and protect your teeth.